GF Contemporary
707 Canyon Rd Santa Fe
505-983-3707
Monday - Saturday: 10 am - 5 pm, Sunday: 12 - 5 pm
Michael Azgour : Perceptualism
Aug 16 - Aug 30 2019 - 10 days left
My recent paintings are inspired by contemporary photography, the mechanisms by which we interact with abundant sources of imagery, and the subjective perception of reality. I juxtapose seemingly unrelated imagery and application methods as a way to exemplify the discontinuity of social interaction in the face of digital culture. Opening Reception: Fri, Aug 16, 5-7pm.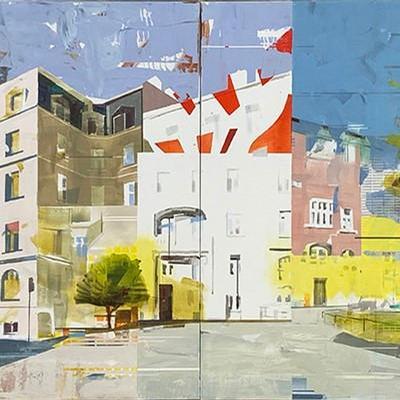 Gigi Mills : Prima Materia
Sep 20 - Oct 04 2019
In a world filled with spectacular visual effects, instagram influencers and an endless stream of images that incessantly vie for our attention, where nations with awe and wonder. Many of us try to turn to art or science to help explain the inscrutable, the mysteries or the voice of angels. Along the way we learn there are no easy answers, and the way Gigi Mills' sees it, there really shouldn't be. We don't need the unexplained revealed, rather we need to go deeper into our confusion and see what lurks beneath our beliefs and guiding principles. Mills wants you to look directly into the event horizon and embrace the longing and loneliness we all carry. Opening Reception: Fri, Sep, 20, 5-7pm.