Poets House
10 River Terrace New York
+1 212-431-7920
Tuesday - Friday: 11 am - 7 pm, Saturday: 11 am - 6 pm



Capacity: 275
Poets House is a modern, inviting home for those who love poetry. Our eco-friendly building, where incomparable views of the Hudson River meet our unique 70,000-volume poetry collection, provides a distinctive setting for any event. Lined with windows and comfortable, quiet corners, Poets House is a one-of-a-kind space that brings sophistication and warmth to book launches, readings, performances, benefits, fundraisers, and meetings.
The Margo Viscusi Reading Room
With sunset views of the Hudson Riverfront and our entire 70,000-volume poetry collection at your fingertips, the Reading Room is a warm and intimate venue for benefits, cocktail parties, book launches, and readings. Lined with windows overlooking the Hudson River and modular seating, the Reading Room also affords the opportunity for after-hours exploration of the library's impressive collection of limited-edition chapbooks. The Reading Room is ideal for gatherings of up to 175 people.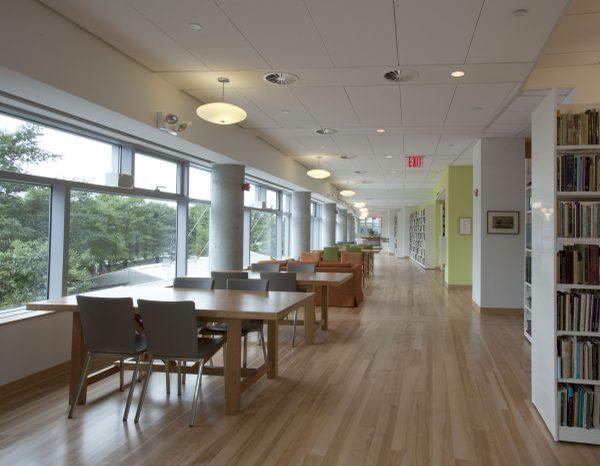 Elizabeth Kray Hall
Honoring Poets House co-founder and long-time arts administrator Elizabeth (Betty) Kray, our airy ground-floor venue is a dynamic arena for both indoor and outdoor programming. Equipped inside with full audiovisual technology and retractable drapes, Kray Hall opens onto an outdoor amphitheater designed by landscape architect Michael Van Valkenburgh. Seating can be arranged inside for up to 85 guests, and outside for up to 100.